Weddings
Edible Wedding Favors and Chocolate Gift Baskets
Thank you for discovering Chocolate Pizza Company where our gourmet chocolate specialties have been a favorite for business and personal occasions for nearly three decades. Our owner started working here when he was 15, mopping floors and washing dishes but dreaming of one day taking the company to new heights. In 2010, at age 21, that dream became reality. Today, we've transformed a small town chocolate shop into an emerging national brand. Our beautiful new production and retail facility opened in October 2015 and reflects that dramatic growth.
Featured on Food Network, our signature – Chocolate Pizza® and Peanut Butter Wings® – leads a line-up of over 100 treats that are unique, delicious, impressive. We use the highest quality chocolate and blend gourmet chocolate with homemade English toffee to create a taste masterpiece. Proudly family-owned and operated, we have a wonderful team of skilled professionals that create amazing confections. Whatever the occasion, business or pleasure, Chocolate Pizza Company is the perfect choice.
To answer your questions, give Alyson a call at 315.673.4098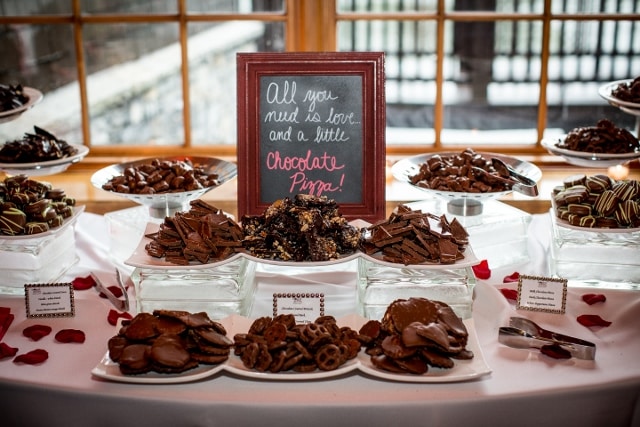 Everything Chocolate Pizza! Contact us about creating your own chocolate desert buffet. Unique. Delicious. Impressive. The photo above is from Ryan and Christie's wedding reception – a chocolate feast as wonderful as it looks.
Take "His & Hers" to sweet new heights! Customize one Chocolate Pizza or two for the perfect centerpiece of any dessert table or a wonderful gift for the happy couple.