No matter where in the world you are, you can make Mother's Day special for your mom. If you aren't able to be in the same place as your mom this year, rest assured that Chocolate Pizza Company has you covered and has the key to your mom's heart. Here's a hint: it's chocolate.
You don't have to hunt for an elaborate gift to show your mom that you care – what really makes a difference is knowing that you thought of her. The unique chocolate gifts from Chocolate Pizza Company make a lasting impression and will show your mom that you think she's special. Here are some great ideas for celebrating from a distance.
Send Her a Chocolate Pizza – Our Chocolate Pizzas are the perfect gift for any mom with a sweet tooth and an appreciation for gourmet chocolate. We have a special-edition Mother's Day Chocolate Pizzas ready and waiting for your finishing touch – you can customize your order with a bow and a gift note to sweeten the package. Made with gourmet, Swiss-style chocolate and homemade English toffee blended in, our Chocolate Pizzas are one-of-a-kind and absolutely delicious. With unique pizza box packaging and customizable orders, you can make a long-distance Mother's Day a lot sweeter.
Send Her a Chocolate Gift Basket – For the mom who loves variety, there's absolutely nothing better than a basket full of delicious chocolates. We've put together two unique Mother's Day gift baskets this year: the Thank You Mom Chocolate Gift Box and the For Mom with Love Gift Basket. Both come packed with our signature gourmet chocolates that will delight even the pickiest moms. With delicious selections like chocolate-covered cookies, Chocolate Pizza slices, Caramel and Nut Drumsticks and Peanut Butter Wings, there's a something to satisfy every taste.
Send Her Dinner – We're willing to bet that if you were going to celebrate in person, that celebration would involve food. You can recreate that feeling by sending dinner to her house. Whether it be a home-cooked meal dropped on her doorstep or delivery from her favorite restaurant, you can't go wrong when you gift her a meal. If Mom is tech-savvy, you may also consider giving her a gift card to a food delivery app. Treat her to a delicious and memorable meal this Mother's Day and maybe a chocolate treat for dessert.
Plant Flowers for Her – If you live nearby, but can't spend Mother's Day with your mom, a great way to celebrate her is to surprise her with some special flowers she can enjoy all spring. Of course, tulips are a classic, but any blooming annuals or perennials will be a big hit. Fruit trees and flowering shrubs also make delightful gifts that will remind her of you for years to come.
Don't Forget the Card – Moms love you no matter what and care most about the thought behind your gift. You can mail a special card with a warm, handwritten sentiment is sure to make her smile.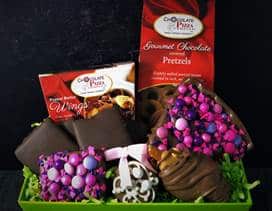 Celebrate With Chocolate Pizza Company
In recent years, we've all had to find unique ways to celebrate from a distance. Long-distance gifts for your mom are easy to find at Chocolate Pizza Company – this has been our specialty for over a decade. We're experts when it comes to shipping special presents to your loved ones around the country. Whether you're dropping off a delicious chocolate gift and a heartfelt note or are using our delivery services to send the a gift right to your mom's door, we've got your back this Mother's Day. Give us a call at (315) 673-4098 or order online to add a special touch this Mother's Day.
Allergy note: All of our products are produced in a facility and on machines that share peanuts, tree nuts, eggs, wheat, milk and soy.