Business meeting secrets may surprise a few meeting planners. For most organizations, a business meeting is about the worst part of any workday. Whether it is a business meeting, training meeting, staff meeting, team meeting or just a meeting to plan more meetings, these mandatory gatherings are more often than not disorganized, drag on and on and often accomplish little more than scheduling the next meeting. A business meeting is the corporate equivalent of a black hole in space – an inescapable force that feeds constantly and drains everything it touches of energy. People hate meetings. In the United Kingdom, it is estimated that unproductive meetings cost businesses over £26 million per year. One study found that 63% of meetings have no planned agenda and that 45% of participants admit to daydreaming during those gatherings. Not exactly a recipe for outstanding performance but what's the alternative?
More and more companies are discovering that balance is the key to creating effective meetings. It starts with publishing an agenda and any documents to be covered well before the meeting itself so participants have time to read the material and prepare. This allows for more collaboration and discussion in the meeting and less scanning over documents and trying to instantly digest their meaning. Along with a published agenda, another secret to effective meetings is breaks.
The Runnymede-on-Thames is a 4-star hotel near London that offers to host business meetings with a relaxing twist. Groups can plan 15-minute meeting breaks and have licensed massage therapists come and deliver neck and upper shoulder massages. There are foosball tables and open-air gardens that invite participants to interact casually, clearing their mind and refreshing their energy before returning to the work at hand. It is a strategy that many top meeting establishments are following with spaces that resemble recreation rooms and include amenities like a ping pong table, video games, bean bag toss and more.
Food is also an integral part of transforming meetings from drudgery to enthusiasm. Fun, unusual and sweet treats can add conversation and camaraderie to break-time. Chocolate Pizza and Peanut Butter Wings are the perfect choice for meeting planners looking to offer something unique and delicious. Few foods are more social than "pizza and wings" and this creative take on a classic snack food is something everyone will love. Chocolate has universal appeal and particularly dark chocolate offers well known health benefits.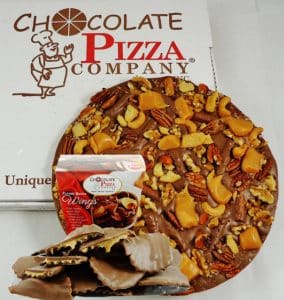 Chocolate Pizza Company in Marcellus, New York has been creating this one-of-a-kind gourmet chocolate specialty for 30 years and ships nationwide. Central New York's largest chocolate maker, Chocolate Pizza Company and owner, Ryan Novak, have been featured on Hallmark Channel, CNBC, Food Network and in Forbes and People magazines. They use the highest quality Swiss-style chocolate, milk or dark, blend it with homemade English toffee, top it with a variety of candies or nuts and serve it in a custom pizza box. The Peanut Butter Wings are crisp, rippled potato chips covered in creamy peanut butter and drenched in milk or dark chocolate. They are a salty-sweet masterpiece that draw instant raves. Together, this interesting combination will intrigue participants and give a nice energy boost.
The idea is simple – let participants rest for short intervals between work sessions and they come back to the table ready to engage and contribute. Meetings should not be a trip to the salt mines where invitees feel like they've been given life sentences to grind away. Meetings are still an inescapable reality of business but done right they can be productive, effective and efficient use of resources to push the organization forward.