Handcrafted Chocolate Wedding Favors
Everything needs to be perfect for your wedding, including your chocolate wedding favors. Chocolate Pizza Company creates beautiful, one-of-a-kind chocolate wedding favors that brides rave about and guests love. From a single place-setting favor to an entire gourmet chocolate dessert table, our variety, creativity and quality mean you get chocolate wedding favors that are exceptional. View our unique selection by clicking here and download our wedding favors brochure below.
To answer all your questions, give Alyson a call at 315.673.4098. She can discuss the many options that are available including customizing your favors.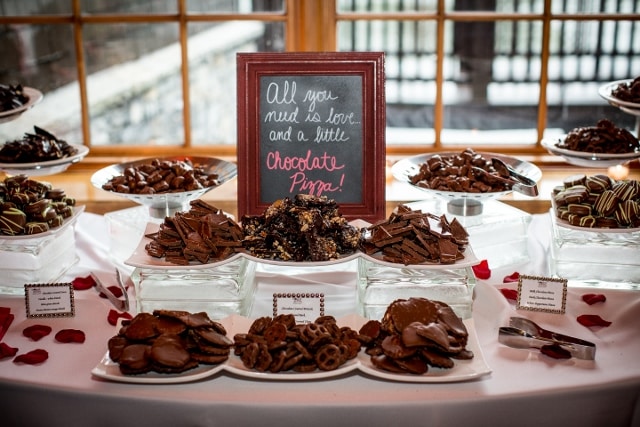 Gourmet chocolate from Chocolate Pizza Company makes an impressive chocolate dessert table for your reception. We like to say, "All you need is love … and a little Chocolate Pizza!" Ryan and Christie created a chocolate feast for their guests with the table spread above – a wonderful selection of many of our gourmet chocolate specialties including Chocolate Pizza, Peanut Butter Wings, Raspberry Almond Rush, chocolate covered pretzels, chocolate covered potato chips, Almond Bark, Nut Crunch and so much more. The possibilities are endless. Guests appreciate fine chocolate and that makes us the perfect choice for your wedding celebration.
Of course, we are more than just delicious chocolate wedding favors. We can take gifts for the bride and groom to sweet new heights with custom Chocolate Pizzas that celebrate the big day. Or, maybe a Chocolate Pizza for the centerpiece of the dessert table with sweet wishes for the special couple. Chocolate Pizzas – especially personalized ones – make a wonderful "Thank You" gift for bridesmaids and groomsmen or for other special people who worked to make the day memorable. Be creative, add the couple's initials to individually wrapped marshmallow Smore treats and let guests take one as they leave. Anything is possible. You are only limited by your imagination in ways that our gourmet chocolate can add to your fun.