If someone you know has come down with a cold or flu, is feeling blue or is in the hospital, you can cheer them up with some thoughtful and unique chocolate gifts or a generously provisioned chocolate gift basket.
The Benefits of Chocolate Gift Baskets
The get-well benefits of chocolate gift baskets are many. First and foremost is the simple fact that you took time out of your busy schedule to send a friend or loved one a delicious gift. When someone has the sniffles or has come down with a powerful bug knocking them out of action for days or even a few weeks, a jovial gourmet chocolate gift basket – assuming they're the kind of person who goes in for sweet nibbles – can help pull them out of their funk.
Chocolate get well soon gift baskets, by definition, come with an added boon derived from the benefits of chocolate! Chocolate has been proved time and time again to improve our moods and reduce anxiety. This is why sending gifts and gift baskets loaded with heaps of chocolate is almost always a good idea.
3 Fabulous Chocolate-Inspired Get Well Soon Gifts
Know someone who could use a bit of a chocolate pick-me-up? If that's the case, here are three fantastic chocolate-inspired get well soon gifts and gift baskets that will make them feel warm and fuzzy all over.
1. Get-Well Soon Chocolate Pizza
A personalized Handcrafted Chocolate Pizza, sent as a get-well soon gift, says you care about another person's feelings while letting them know that they should also hold onto their sense of fun. This gratifyingly sweet Chocolate Pizza pie, built with love and a foundation of homemade English toffee, can be customized to deliver a get well message that fits the person you're sending it too. With a white chocolate "Get Well Soon" note of encouragement written across the top, and a border built out of chocolate and peanut butter candies, this jaunty present will bring a ray of sunshine into the life of anyone you know who's feeling a little down or under the weather.
2. Get Well Soon Tote
No, the actual tote in this Get Well Soon Tote isn't made out chocolate, but everything inside pretty much is. If you want to help someone boost their overall mood, send this considerate present. The recipient will "Feel Better by the Bite." This substantial tote comes with a slice of our celebrated Chocolate Pizza®, our palate-pleasing Peanut Butter Wings®, two sandwich cookies drenched in chocolate and one adorable Moompa cream-filled sponge cake coated in milky-sweet Swiss-style chocolate. As get well soon gifts go, this tote is a candy-infused doozy sure to create a big grin – and a mouth covered in sticky chocolate.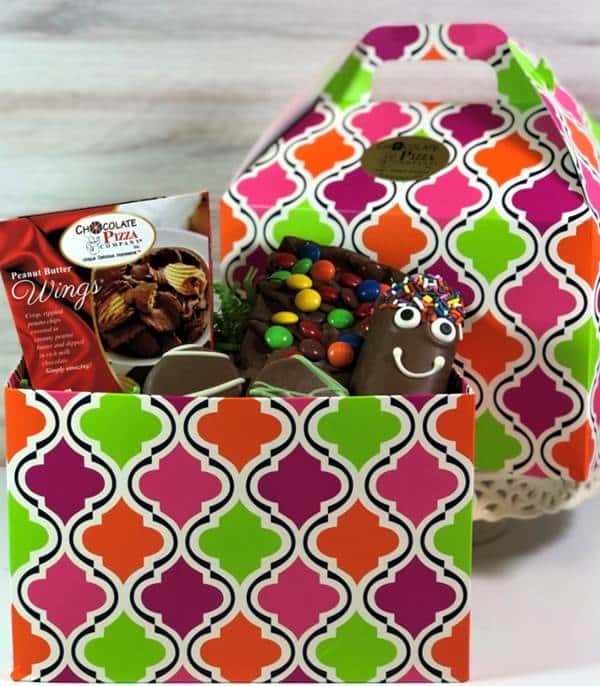 3. Feel Better by the Bite Get Well Soon Tote
If you want to impress and possibly overwhelm a friend with a barrage of get-well chocolate and treats, our Feel Better by the Bite Get Well Soon Tote is bound to make a lasting impression (if even the sweets inside are quickly gobbled up). Peanut Butter Wings, a Chocolate Pizza® Slice, two delicious chocolate covered sandwich cookies, and other delectables make this get-well gift basket a chocolate lover's dream come true. What better way to say you care about someone on the mend than with a cascade of candy and milk or dark chocolate treats?