If the people in your life are anything like the kind of people we hang out with, they go gaga for chocolate. And when you're surrounded by true chocolate lovers, it's only natural to want to buy them gifts during the holiday season that pay homage to the mighty cacao bean (from which chocolate is derived). Well, if chocolate is on your mind, you've come to the right place. Chocolate Pizza is a one-of-a-kind shop for kindhearted souls looking to procure some exceptional eatable holiday gifts for the chocolate lovers in their life.
Sticky Sweet Chocolate Treats
Sometimes we prefer the gourmet chocolate we nibble on – or gobble down, depending on our appetite – to be so sticky sweet that it clings to our fingertips. If you want to "give the good stuff" when it comes to chocolate, the gooier it is, often the better. With that sentiment in mind, our Caramel S'mores should rank extremely high on the yummy-in-your-tummy stickiness scale. One (or more) of these graham cracker smores, oozing with thick caramel and silky marshmallow, ought to satisfy the sweet tooths you're buying for.
If you're friendly with any real-life cookie monsters out there – who also happened to be fans of world-class chocolate – our remarkably popular Chocolate Dipped Cookies (cookie sandwiches, if you want to get down to specifics) aim to please. They come in mint, peanut butter, or vanilla crème filling varieties, and will definitely hit that "sweet" spot. And to round out our list of sticky edible extravagances, you might want to get your paws on one of our best-selling Caramel Nut Drumsticks.
These tasty treats combine the savory flavors of a pretzel immersed in rich caramel and milk or dark chocolate, then coated with cashews, pecans and walnuts. Gnaw on these sugary babies just like you would with a traditional drumstick for a unique gourmet dessert.
Something for the Chocolate Gourmet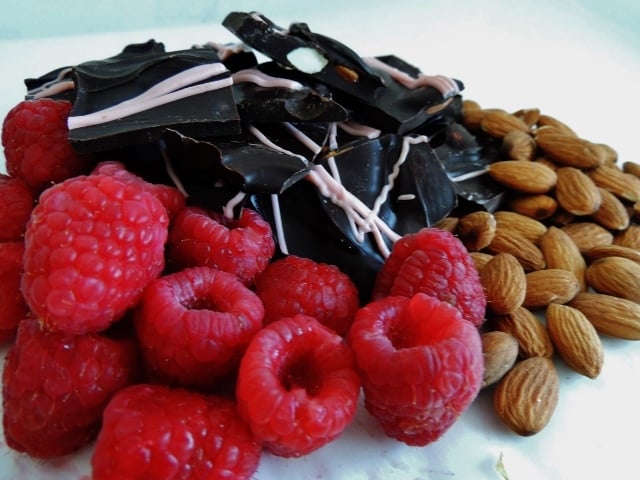 True chocolate gourmands will jump – or if they don't want to show off their unbridled enthusiasm, walk briskly – at the chance to sample a piece of our oh-so refined Raspberry Almond Rush. This American-Made chocolate marvel, which is a mix of dark chocolate with the tang of raspberries and filled with textured almonds, is a sophisticated chunk of chocolatey goodness guaranteed to leave a lasting impression on the most discerning of palates.
Diving deeper into the land of gourmet chocolate creations, you might want to consider (when shopping for the chocolate lovers in your life) our signature milk chocolate or dark chocolate Peanut Butter Wings. These Wings are a perfect blend of salty and sweet. The ripples on salty potato chips are covered with peanut butter first, then we throw on a layer of delectable chocolate, kicking the irresistibility of these crunchy chips up a notch.
And for those of you who want to up the "salty" ante even more for your chocolate desires, you can satiate your snack-time cravings with our Sea Salt Chocolate Dipped Potato Chips. These rippled beauties amplify the salt and sweetness mix by tossing "a splash of sea salt" along with the gourmet milk chocolate, creating a heavenly chocolate potato chip experience like none other.