Gourmet chocolate gift baskets combine stunning presentation with exceptional taste to create an irresistible gift idea for any occasion. Americans spend about $1 billion a year on gift baskets which makes it one of the most popular choices for holidays, birthdays or special events. Chocolate is by far the king of gift basket items with gourmet chocolate gift baskets taking centerstage on websites belonging to dozens of specialty food companies. But one Upstate New York business is taking gourmet chocolate gift baskets to an entirely new level by adding some very unique products – pizza and wings.
Chocolate Pizza and Peanut Butter Wings to be more precise. Chocolate Pizza Company in Marcellus, New York, located about 15 minutes from Syracuse, has been making their trademarked favorites for nearly 3 decades. Chocolate Pizza blends the highest quality Swiss-style chocolate with homemade English toffee made right on-site in small batches from a century-old local recipe. The mixture is poured into actual pizza pans, shaken to remove air bubbles and then topped with a dizzying variety of candies and nuts. It's cooled, sealed and served in a custom pizza box or by the slice which makes it a staple for the company's gourmet chocolate gift baskets.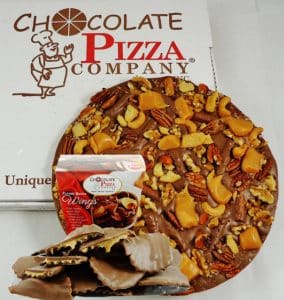 Peanut Butter Wings are pure magic in your mouth. These top-selling treats are a salty-sweet masterpiece that has Glitter Magazine raving, "You have not lived until you've tried them." Crisp, rippled potato chips made locally are covered in creamy peanut butter and drenched in rich milk or dark chocolate. To bite into one is to ignite your taste-buds with a flavor combination they will not forget.
But the chocolatiers at Chocolate Pizza Company are only getting started when it comes to unique treats for their gourmet chocolate gift baskets. How about a caramel and nut drumstick? This 4 inch slightly salted pretzel rod is dipped in caramel and rolled in pecans, cashews and walnuts before being coated in milk or dark chocolate and finished with a splash of sea salt. If it is almond bark you crave, then you will love their Raspberry Almond Rush that combines their special dark chocolate with roasted almonds and a bright raspberry flavor that gives the confection its signature aroma.
Chocolate Pizza Company prides itself on making chocolate that is unique, delicious and impressive and that philosophy carries over to its gourmet chocolate gift baskets not just in the products but also in the presentation. It starts with what you see on the website. Most gift basket companies show you pictures of boxes perfectly packed into a basket and that is because those little boxes only hold a bite or two of chocolate. There is more air in those boxes than chocolate. But not at Chocolate Pizza Company. They put their chocolate front and center in every picture because their gift baskets deliver chocolate, not half-empty boxes. You can send gift baskets filled with pretty boxes or you can send gourmet chocolate gift baskets from Chocolate Pizza Company filled with gourmet chocolate.
Featured on CNBC, Food Network, Discovery Channel, Hallmark Channel, CMT and in Forbes, People and Entrepreneur magazines, Chocolate Pizza Company is making a name for itself nationwide. Owner, Ryan Novak, started with the company at the age of 15 as a dishwasher. In 2010, he was 21 years-old and a senior at Syracuse University when the chance to buy what was then a small-town chocolate shop presented itself. He jumped at it and has transformed the business into an emerging national brand. In addition to gourmet chocolate gift baskets, the company does Chocolate Pizza, Peanut Butter Wings, wedding favor, birthday chocolates and custom chocolates for business or family occasions.