You appreciate all the hard work and support your coworkers, employees, clients and officemates put in all year long. Show them how much they mean to you with unique holiday gift ideas from Chocolate Pizza Company that really stand out.
We've got a wide variety of sizes and styles of holiday business gift ideas to suit your gifting needs. From unique client gift ideas that sweeten your mutually beneficial relationship to holiday gifts for coworkers or employees that will tickle their fancy, our gift baskets add a sweet touch to any work-related celebration.
Impress your client's entire office with our Top of the Line Gift Basket. This collection of our best chocolate creations has something for everyone – a full 16-ounce Chocolate Pizza with your choice of tasty toppings, a large container of our famous Peanut Butter Wings, two boxes of specialty chocolates, chocolate-covered graham crackers, four chocolate-covered cream-filled cookies, a Peanut Butter Sparkler, a caramel and nut drumstick and a s'more treat.
Holiday gifts for office parties or events get a little sweeter with one of our 3-pound Chocolate Platters that can be customized to include the chocolate treats and Chocolate Pizza slices your crew loves. Choose from chocolate-covered pretzels and cookies, Avalanche Chocolate Pizza slices and more for a delightful indulgence that really shows you care.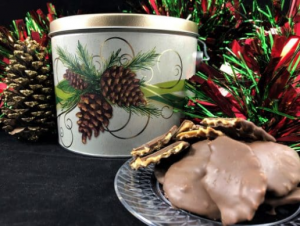 When you're looking for holiday gifts for employees, it's tempting to go for the tried-and-true. While tradition is always a hit, give them the good stuff with Peanut Butter Wings in a Pine Cone Tin for a unique gift to show how much you appreciate them. And what better way to reward a well-running team than to help coworkers bond over a shared Chocolate Pizza and scrumptious Peanut Butter Wings?
At Chocolate Pizza Company, we understand that coworkers, employees and clients can become like family. That's why we're always happy to help with your holiday business gift ideas. We've got hundreds of one-of-a-kind gourmet gifts to suit your needs. Choose from our list of four inspiring books about business success and pair it with chocolate-covered treats in our Brown Bag Lunch and Learn gift bags for memorable holiday gifts for your coworkers. Arrange for gourmet gift baskets to be delivered to an entire corporate office or just a few clients – we'll make sure each one arrives with deliciousness intact.
No matter what size or kind of business you're in, Chocolate Pizza Company is here to help with all your gifting needs. We've grown our small family-owned business into a national provider of unique gourmet chocolate by valuing our employees and coworkers and encouraging innovation. Our owner, Ryan Novak, started as a dishwasher in high school and made his way to the top with hard work and dedication.
Gifts of gourmet chocolate from Chocolate Pizza Company show your business contacts that you value quality, innovation and creativity. Sweeten their day and see delicious returns on your investment with holiday business gifts that stand out from Chocolate Pizza Company.