Mother's Day is Sunday, May 10!
Though this year feels a whole lot different than any other year, it's still a special time for mom. It doesn't matter if her kids are across town or across the country, the in-person celebrations will be vastly limited this May, with drive-bys and video chats replacing brunches and cookouts. But Chocolate Pizza Company has the key to mom's heart, and here's a hint: it's chocolate.
With few or no visits due to coronavirus, Mom may feel sad or lonely, so it's more important than ever to shower her with love on Mother's Day. If your mother falls into a vulnerable category, has a pre-existing condition or lives in a group setting, it's especially crucial that you keep her safe by keeping your Mother's Day celebrations distant. Here are some great ideas for how to celebrate despite the distance.
Send Her a Chocolate Pizza – Our Chocolate Pizzas are the perfect gift for the mom with a sweet tooth and an appreciation for gourmet chocolate. We have a special Mother's Day edition that's ready and waiting for your finishing touch. You can customize yours with a bow and a personalized gift note to sweeten the deal.
Send Her a Chocolate Gift Basket – For the mom who loves variety, there's absolutely nothing better than a basket full of delicious chocolates. We've put together two one-of-a-kind Mother's Day gift baskets this year: the Thank You Mom Chocolate Gift Box and the For Mom with Love Gift Basket. Both come packed with our signature gourmet chocolates that will delight even the most discerning mom.
Send Her Dinner – We're willing to bet that if you were going to celebrate in person, you would probably have an event involving food. Try to recreate that feeling by sending dinner. Whether it be a home-cooked meal dropped off on her doorstep or delivery from her favorite restaurant, you can't go wrong when you buy her a meal. If Mom's tech savvy, you may also consider giving her a gift card to a food delivery app.
Plant Her Flowers – If you live nearby, a great socially distant way to celebrate Mom is to surprise her with some special flowers she can enjoy throughout the spring. Of course, tulips are a classic, but any blooming annuals or perennials will do. Fruit trees and flowering shrubs also make delightful, plantable gifts.
Don't Forget the Card – One thing about moms is that they'll love you no matter what, so if you don't want to spend a lot on a present this year, at least pick out and mail a special card that will make her smile. A warm, handwritten sentiment will go a lot further this year than it might any other year, so make it personal!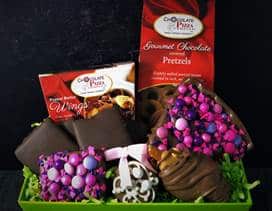 Celebrate with Chocolate Pizza Company
Unfortunately, due to the ever-worsening coronavirus pandemic, we've all had to find unique ways to celebrate from a distance. Thankfully, this has been the Chocolate Pizza Company specialty for over a decade, and we're experts when it comes to shipping special presents to your loved ones around the country. Give us a call (315-673-4098) or order online to start your special order for Mom!