Corporate gifts aren't just for the holidays. Sure, it's a given that presents for employees – from smaller mom-and-pop-style businesses to giant conglomerates – should be offered to personnel during the Christmas holiday season and on other significant holidays or for big events (a big sale or a corporate anniversary). But showing your appreciation to your staff, perhaps with a mouthwatering yet substantial array of quality chocolates made with delicious homemade English toffee, throughout the year, is a great way to boost morale, and surprise the people who work for you in the most chocolaty of ways.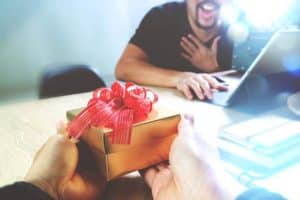 The Importance of Corporate Gifting
Gifts for employees, from corporate gift baskets to small edible reminders (like a present of crunchy salty sweet gourmet grub smothered in velvety Swiss-style chocolate), lets your staff know you're paying attention to them. The day-to-day operation of any business relies upon the attentiveness of the employees running the ship. The reason why corporate gifting is so essential, especially when it's not expected, is that it demonstrates to hardworking staff that managers and company owners are attentive to their needs.
The little things might not seem like much, but a chocolate gift basket filled to the brim with yummy goodness unexpectedly handed out to busy staff, says a lot about how the folks running an outfit view, appreciate and reward their employees.
Why Employees Appreciation Gifts
Another reason why corporate gifting at unanticipated times is so important is that it fosters a positive environment in the workplace. Outside of creating a comfortable office workspace, offering time off and decent wages, management staff who offer their team surprise corporate gifts can improve the spirits (and productivity) of the men and women they employ – plus, it's just a kindhearted gesture to make.
Imagine one of your employees showing up to the office with a mound of work piling up on her desk. Nothing unusual about that. But imagine her surprise when she sees a customized Chocolate Pizza or a box of Peanut Butter Wings (a salty-sweet amalgamation of crispy chips and gourmet dark or milk chocolate) waiting for her on her desk. Yep, she'll still have a lot of work to get through, but you've just made her day a whole lot brighter.
Employees' appreciation gifts, big or small, for the same reasons we all do. It lets them know that people are thinking about them and care enough to find out what they like (in this case, chocolate, naturally) and then make a thoughtful present out of it. This is why corporate gifting is important.
Chocolate-Themed Corporate Gifts and Gift Basket Ideas
As we've just explored, offering corporate gifts to essential clients, valued colleagues and indispensable employees throughout the year has many benefits. If you want to impress customers or business partners at a big meeting, our Executive Session Gourmet Chocolate Platters offers an elegant display of miniature-sized caramel and nut drumsticks, crunchy pecan and cashew clusters, salty-sweet potato chips blanketed in fine chocolate and more.
Show your staff your appreciation with a Caramel Candy Chocolate Gift Basket brought to epicurean life with handmade caramel chocolate, or a combo pack with a slice of our renowned Chocolate Pizza and appetizingly rippled Peanut Butter Wings. Corporate gifting is good for business, employee morale and for the spirit of the gift-givers as well.