About the Chocolate Pizza Company
Thank you for discovering Chocolate Pizza Company where our gourmet chocolate specialties have been a favorite for business and personal occasions for nearly three decades. Our owner started working here when he was 15, mopping floors and washing dishes but dreaming of one day taking the company to new heights. In 2010, at age 21, that dream became reality. Today, we've transformed a small town chocolate shop into an emerging national brand. Our beautiful production and retail facility opened in October 2015 and reflects that dramatic growth.
Featured nationally on Food Network, NBC's Today Show, ABC News and internationally on Discovery Channel India and Food Network Canada, our signature and trademarked – Chocolate Pizza® and Peanut Butter Wings® – leads a line-up of over 100 treats that are unique, delicious, impressive. We use the highest quality Swiss-style chocolate and blend that gourmet chocolate with homemade English toffee to create a tasteful masterpiece. Proudly family-owned and operated, we have a wonderful team of skilled professionals that create amazing confections. Whatever the occasion, business or pleasure, Chocolate Pizza Company is the perfect choice.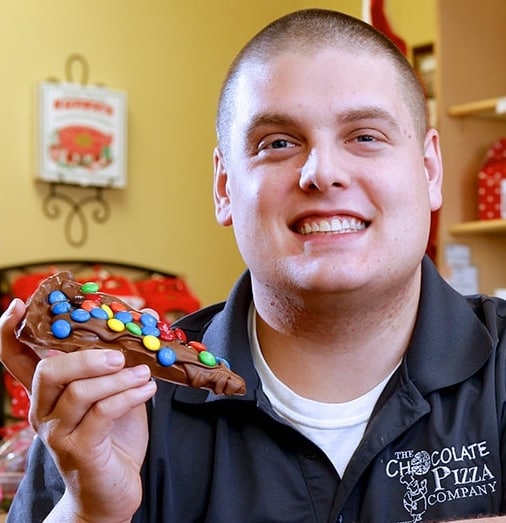 Our Owner – RYAN NOVAK
He started as a dishwasher at age 15 and by 21 years-old, Ryan Novak was the owner of Chocolate Pizza Company. His vision was to transform a small-town chocolate shop into an emerging national brand. Today, Chocolate Pizza products can be found at thousands of retail locations across the country.
3774 Lee Mulroy Road, Marcellus, New York 13108
Store Hours & Directions
Chocolate Pizza Co.'s  new store is at  3774 Lee Mulroy Road, Marcellus  (NYS Route 175) between Ultimate Goal Indoor Soccer and NAPA.
HOLIDAY SEASON HOURS:
Monday – Friday: 9:00 AM – 6:00 PM
Saturday: 10:00 AM – 5:00 PM
Sunday: 11:00 AM – 4:00 PM
Closed Thanksgiving Day