Dad always goes out of his way to take care of everyone else and is the guy you can count on to do anything for the family. This Father's Day, make sure he knows he's one of a kind by surprising him with a personalized gift that's totally unique. Instead of giving him cufflinks or a boring old necktie, say "I love you" with a delicious, customized gift basket from the Chocolate Pizza Company.
There are many unique personalized gifts for dad out there. Make sure the one he receives is one he'll actually use – or eat, in this case. These Father's Day gift ideas will satisfy his sweet tooth while letting him know he's the world's number-one dad in your eyes. Our chocolate Father's Day gift boxes are also great for birthdays, holidays, anniversaries and many other special occasions.
For the All-American Dad
If your pop has patriotic spirit running through his veins, he'll love the All-American Dad Chocolate Pizza. Handcrafted with your choice of gourmet milk or dark chocolate blended with homemade English toffee, this chocolate pizza pie is topped to the edge with red, white and blue candies. It comes in a cool custom pizza box and can be gifted with a bow for extra Father's Day flare. Add on a delicious batch of our Peanut Butter Wings to make this treat extra sweet for a Father's Day barbeque or post-party dessert.
These chocolate gifts for dad are made in America. Independence Day isn't long after Father's Day, so celebrate both with one tasty gift – although we're betting that dad will love this All-American Dad Chocolate Pizza so much that it will be all gone by the 4th of July!
For the Snack-Loving Dad
Some dads just can't get enough of their favorite snacks. If your father has a soft spot for potato chips and wings, the salty-sweet deliciousness of our Peanut Butter Blast Chocolate Pizza and Peanut Butter Wings combo is the perfect Father's Day gift idea. In addition to our signature Chocolate Pizza topped with peanut butter cups and candies, these Father's Day gift baskets include a regular or large box of our sweet-and-savory Peanut Butter Wings, which feature crunchy rippled potato chips covered in creamy peanut butter and gourmet milk or dark chocolate. The pizza is served in a custom pizza box. Add a gift note during check-out to let dad know how sweet he is.
For a pop who also loves pretzels, we recommend our Lumberjack gift box for men. This smorgasbord of Father's Day chocolate heaven begins with a slice of our signature Avalanche Chocolate Pizza and a serving of our Peanut Butter Wings. Dad will also get a box of chocolate pretzels, six chocolate-covered cookies and a Peanut Butter Sparkler. It's packed in a cool black-and-red or black-and-white plaid gift basket with a matching bow and clear overwrap to protect the chocolatey contents until the big day.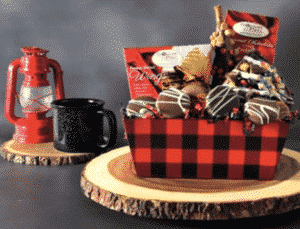 For the Best Dad Ever
If you simply want to make your dad feel loved this Father's Day, you can't go wrong with our Best. Dad. Ever. Chocolate Pizza. This scrumptious, personalized chocolate Father's Day gift can be customized with gourmet milk or dark chocolate, of course blended with our homemade English toffee. It features a border loaded with colorful chocolate candy and sugar sprinkles to make it extra fun and festive. In addition to the standard button candies and sprinkles, we've added candies shaped like baseballs and gloves, soccer balls, basketballs, hearts and other things that will make dad smile. Choose from two messages: Best. Dad. Ever. or Happy Father's Day.
You can also go all out and make an extra sweet impression with our Top of the Line gift basket. These humungous Father's Day baskets are filled with three Chocolate Pizza slices, one plain and two covered with various candy and nut toppings. Also included are three chocolate-covered cookies and two 6-ounce boxed chocolate classics. That's not all – dad will also get a box of our Peanut Butter Wings and a Peanut Butter Sparkler. Finally, there's a unique s'mores treat, chocolate-covered graham crackers and a chocolate-covered cluster and crispy rice square for good measure. It's all packed in a gorgeous gift box and finished up with a bow.
Gourmet Chocolate Father's Day Presents
When it comes to creative, one-of-a-kind chocolate gifts for dad, you can't beat a Father's Day gift box from the Chocolate Pizza Company. Our treats are made in America with handcrafted Swiss-style chocolate plus top-of-the-line candies and add-ons, so anyone with even a hint of a sweet tooth will be in chocolate heaven. Whether dad decides to keep it all for himself or share it with the family, you'll be glad you decided to gift him the very best this Father's Day.