Love chocolate? Well, then you're in the right place for some amazing custom chocolate Christmas gift ideas that will knock their socks off. Whether you're looking for fantastic corporate chocolate gift ideas, a one-of-a-kind personalized chocolate gift for family or some amazing gourmet custom chocolate treats for friends, Chocolate Pizza Company is the place to be! Read on for our top 10 custom Christmas Chocolate Pizza gifts for this holiday season.
#1: Winter Wishes Custom Chocolate Pizza
Want to say something in your own words? You can't get much more personalized than a Winter Wishes Custom Chocolate Pizza from Chocolate Pizza Company. Available in gourmet milk or dark chocolate, you can add a custom message to this pizza pie in white chocolate drizzle. It's like a big, chocolatey Hallmark message delivered in a genuine pizza box.
#2: Snowflake Border Chocolate Pizza
Whether you select a "Happy Holidays" greeting or wish the recipients a "Merry Christmas," this delicious Snowflake Border Chocolate Pizza says it all with velvety chocolate, crunchy chocolate candies and sugar snowflakes.
#3: An Extra-Large Chocolate Pizza Greeting
The holiday season is often full of extra-large gatherings. Whether those gatherings include family, friends or co-workers, you'll have more than enough Chocolate Pizza goodness to go around with our extra-large 12″-diameter Customized Chocolate Pizza. Choose your toppings: You can opt for delicious walnuts, almonds, pecans or traditional chocolate gems. Then, add your custom message. One of our expert chocolatiers will add it to this pizza in white chocolate.
#4: Holiday Pizza by the Slice
When one of our traditional Chocolate Pizzas is too large or you need individual, personalized gifts for stocking stuffers, why not select one of our holiday Chocolate Pizzas by the slice? There's truly a flavor for everyone's tastes, from a slice of our Peanut Butter Blast or our White Chocolate Cranberry and Almonds to a slice of our Sugar-Free Chocolate Pizza for those who may have dietary restrictions.
#5: Make it a Pizza and Wings Holiday Combo
Looking for a custom savory and sweet gift that's unlike any other gift they're likely to receive this Christmas season? Look no further than one of our Chocolate Pizza and Peanut Butter Wings holiday combos. First, choose your pizza pie flavor. Perhaps you'll want to opt for our ever-popular Avalanche Chocolate Pizza or our Drumstick Chocolate Pizza. We'll then add an order of our Peanut Butter Wings – salty, crunchy rippled potato chips, slathered with rich peanut butter and then dunked into our gourmet milk or dark English-toffee chocolate blend that's unlike anything else they've ever tasted before. Yum!
#6: Custom Corporate Chocolate Christmas Gifts
Want to impress clients? Prospective business partners? We guarantee you'll do so with one of our custom corporate chocolate gifts from Chocolate Pizza Company. We've packed our corporate chocolate gifts chock full of our delicious goodies – from our crave-worthy Chocolate Pizza and Peanut Butter Wings to our delectable gourmet treats that will make lasting impressions. Choose from a variety of options in our corporate chocolate gift selections that are not only amazing for the holiday season, but throughout the year too!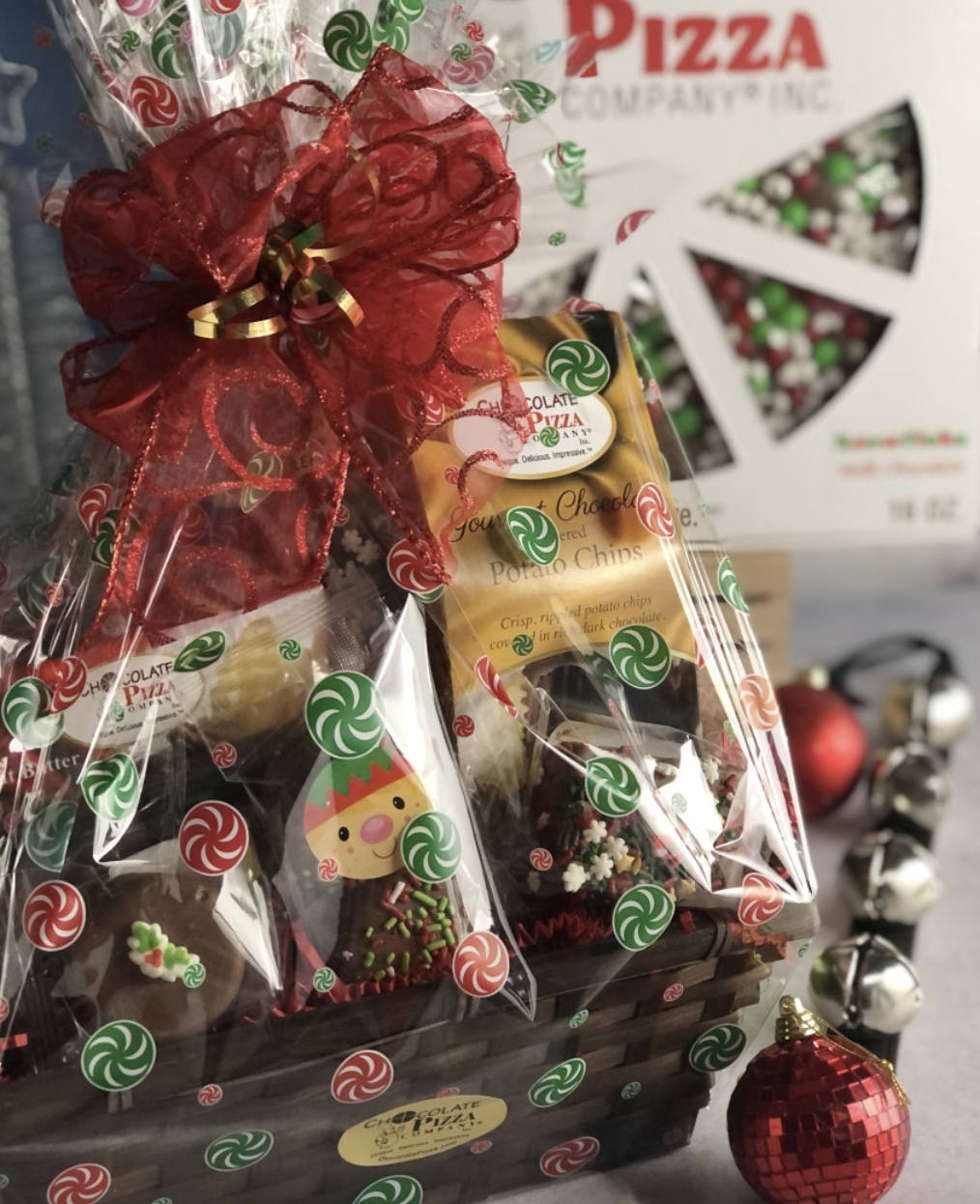 #7: Unique Gourmet Gift Baskets
Watch them open one of our holiday custom gift baskets and see their faces light up! We've packed our Christmas chocolate gift baskets with delicious, gourmet candy goodness that's straight from our kitchen. Melt-in-your-mouth chocolate, fun treats, sweet-and-savory Peanut Butter Wings: Our Chocolate Pizza Company gift baskets have it all. We take great care to focus on the chocolate, highlighting the treats in a bigger-than-life way so they'll be wowed with yummy Christmas candy.
#8: Choose Your Own Stocking Stuffers
A little bit of this, a little bit of that – you'll be able to create the Christmas stocking that even Santa Claus would be jealous of when you order some of our delicious stocking stuffer-sized treats. They'll love our chocolate-dipped Christmas Cookies dressed up in holiday sprinkles and festive packaging. Or how about a Holiday Moompa, a chocolate-dipped cream-filled golden sponge cake trimmed with red, green, and white sugar sprinkles and features a happy face ready for those holiday festivities?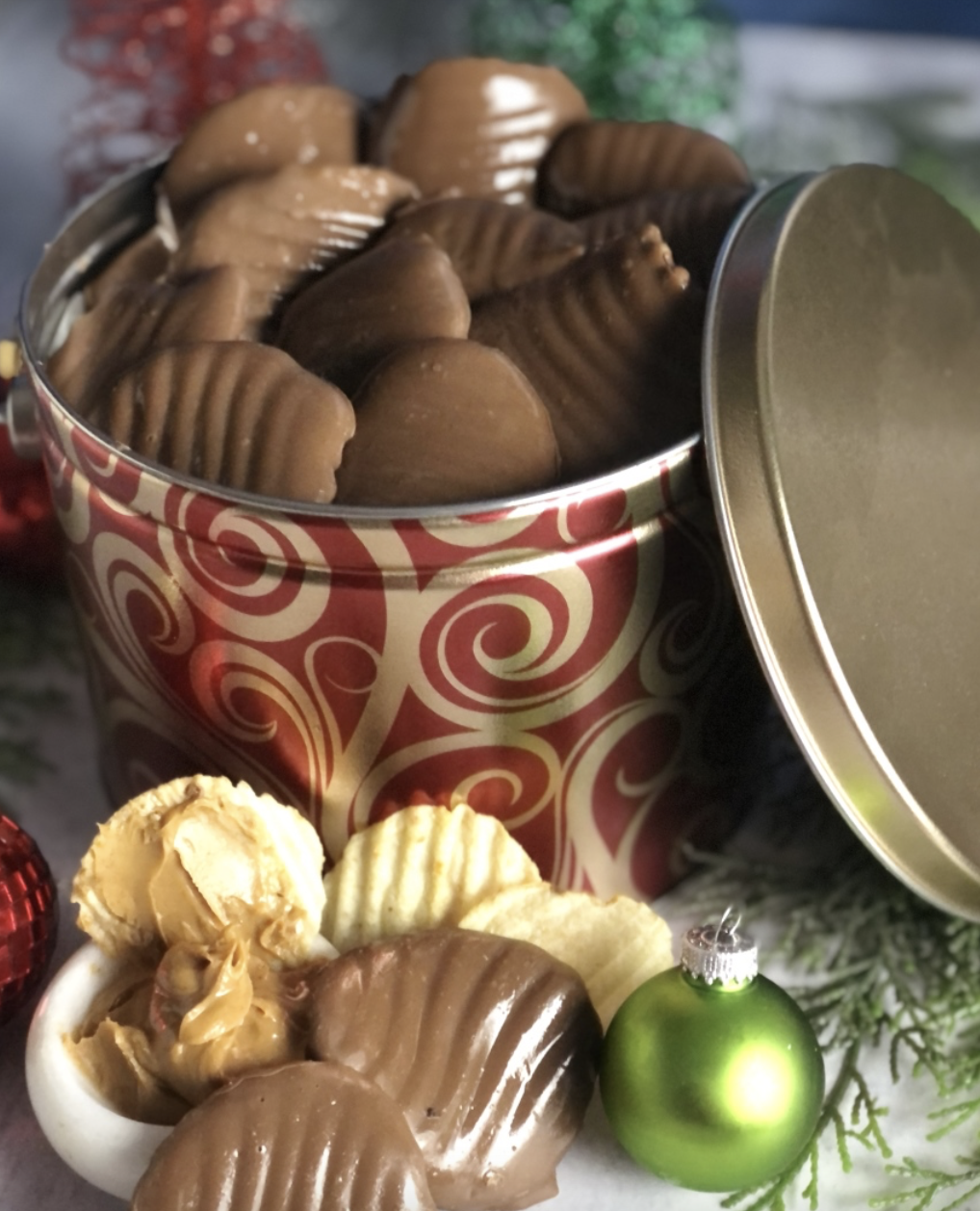 #9: Decorative Holiday Tins
Everyone loves chocolate. They also love reusable holiday tins that can be repurposed for wrapping gifts or sharing other homemade treats. With our delicious Christmas tins, you'll receive some of the best gourmet chocolate treats available. Get ready for holiday happenings with our Holiday Party tin bursting with chocolate-covered cookies and a dozen chocolate-dipped pretzel sticks. A candy cane-sprinkled chocolate pretzels tin will satisfy those peppermint-craving taste buds, and our Christmas tin that's stuffed full of 1.5 lbs. of Peanut Butter Wings is sure to add sweetness to the season.
#10: Tiered Chocolate Gift Boxes
Say it in a big way with our giant tiered gourmet chocolate gift boxes filled with some of Chocolate Pizza Company's best-selling chocolate treats. With our Chocolate Party Tower or our 3-Tier Chocolate Tower, you can choose your boxes' colors and designs and add an optional Chocolate Pizza to go along with it. It will be a fantastic gift for anyone on your list that they won't soon forget!