Office gifts can be an integral part of your organization's people policies. Let's face it, an office setting where team members are periodically recognized, rewarded or just surprised is going to be a lot more positive, productive and energized than an office that resembles another day in Solomon's Salt Mines. Working in an environment where team bonds are strong and routinely reinforced are frequently cited reasons that organizations retain good people so occasional office gifts that a team can share can contribute to that positive environment. And when it comes to universally embraced office gifts, chocolate is king.
According to Gourmet Healthy Chocolates, nine out of ten people love chocolate and fifty percent of the population can't go a day without eating some. Across the globe, it is estimated that one billion people eat chocolate every day. Chocolate makes people happy – both emotionally and physiologically. Chocolate has been shown to raise serotonin and dopamine levels in the brain, both of which help create relaxed and positive feelings. The kind you want in your office and another great reason why your choice of office gifts should be gourmet chocolate.
Chocolate Pizza Company is Central New York's largest chocolate maker and has been creating unique, delicious and impressive chocolate office gifts for nearly 3 decades. Top on its list of office gifts is its famous Chocolate Pizza® and Peanut Butter Wings®. Few things have brought more team members together than pizza and wings – if there was an Office Hall of Fame, then pizza and wings would be enshrined. But this is no ordinary pizza and wings, nay-nay. We are talking about Chocolate Pizza and Peanut Butter Wings, two of the greatest inventions of mankind put together in one fantastic surprise that is guaranteed to raise morale and build teamwork.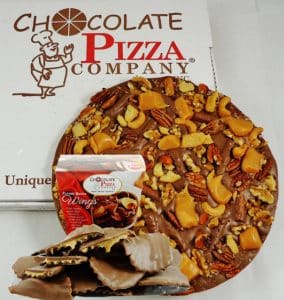 What is Chocolate Pizza? Visualize this … rich milk or dark chocolate – the finest Swiss-style chocolate available – tempered to perfection to give it the shine, snap and velvety mouth-feel that defines gourmet chocolate. Chocolate Pizza Company, and its twenty-something owner, Ryan Novak, then blend homemade English toffee into that chocolate before pouring it into actual pizza pans and topping it with a dizzying variety of candies or nuts. The regular or large Chocolate Pizza is served in a custom pizza box to add to the authentic surprise. Gather around the break table teammates, your wish for something sweet and delicious has been granted.
Ah, but there is more to this office gifts combo. We have the Wings! Forget chicken, these are Peanut Butter Wings and there is nothing like them anywhere. Glitter Magazine tried them and proclaimed, "You have not lived until you've tried these!" Peanut Butter Wings are a Chocolate Pizza Company exclusive – crisp, rippled potato chips covered in creamy peanut butter and drenched in rich milk or dark chocolate for a confectionery masterpiece. Watch and listen as your team members experience salty-sweet heaven bite by satisfying bite. Everyone is energized, everyone is happy, and everyone wants to enjoy this team building break over and over again.
Featured on CNBC, Food Network, Discovery Channel, Hallmark Channel, CMT and in Forbes, People and Entrepreneur magazines, Chocolate Pizza Company is making a name for itself nationwide. Owner, Ryan Novak, started with the company at the age of 15 as a dishwasher. In 2010, he was 21 years-old and a senior at Syracuse University when the chance to buy what was then a small-town chocolate shop presented itself. He jumped at it and has transformed the business into an emerging national brand.